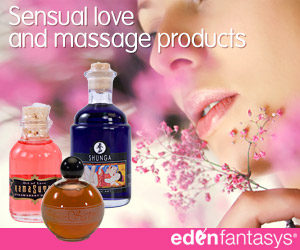 Everyone wants to feel loved, and most people feel better about themselves too when they feel sexy, desirable, and loved. I had the opportunity recently to review a product from Eden Fantasys. I spent alot of time on the site trying to decide what I wanted that hubby and I could both enjoy.
The site is very easy to navigate, and even has a search bar that you can narrow down into a field to make it much more easier to browse what your looking for or for something glitzy that catches your eye. They have
adult toys
, erotic books, sensual massage oils and candles,
sexy lingerie
, and so much more.
The ordering process was very easy and the items were shipped promptly and were top quality. I'm very satisfied with this company - their products are superb and of the highest quality and the items were packaged and arrived in a discreet package - a plus when you have noisy kids!! Highly recommend this company for all of your adult and sensual needs and will be a returning customer myself!