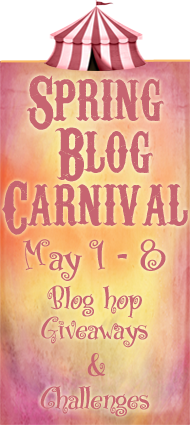 This party is basically a giveaway hop, but it's going to be so much more than that!
Now for the Carnival Part. During the giveaway hop different blogs will be hosting booths. Each booth will have a fun challenge for you to do to enter their giveaway!
May 1st-
May 2nd-
May 3rd-
May 4th-
May 5th-
May 6th-
May 7th-
HERE at Minding Spot with the Teacups Booth - Hope you love some Mr. Darcy!!
May 8th-
No Challenges
~~~~~~~~~~~~~~~~~~~~~~~~~~~~~~~~~~
Make sure you come back on May 7th to visit the Teacups Booth!! But for the hop, I am giving away an ARC of Witches of East End by Melissa De La Cruz!!
USA Only
You must be a GFC Follower
A tweet will get you an extra entry!
Comments are always appreciated, but you must fill out the form for an entry!