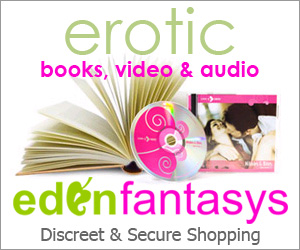 This Saturday is St. Patrick's Day and Eden Fantasys has the green! Sure, you can wear your casual t's and eat some corn beef and cabbage, but while you're relaxing with some green beer, you can feel a bit naughty knowing you have something else green stashed in the bedroom. I think these diamond net thigh highs are the bomb - just enough to tease your man!
Of course I find this little fellow to be extremely cute, but I'm sure I rub my wormie will turn more than one head. A discreet massager that by pressing his tail has three speeds and small enough to tuck in your purse or luggage.
And who knows what goes on Behind the Green Door? When I first met my hubby, he used to have bags of dvds, but over the years I've weeded them out. But now I'm curious what's behind the door? A classic of the 70's that obviously passed me by, but now has my curiosity peaked.
Eden Fantasys is shipped discreetly and the customer service is terrific. All of their items that I have received have been of excellent quality.
In honor of St. Patricks Day - Eden Fantasys is offering 20% OFF - Use Code: POTOFGOLD